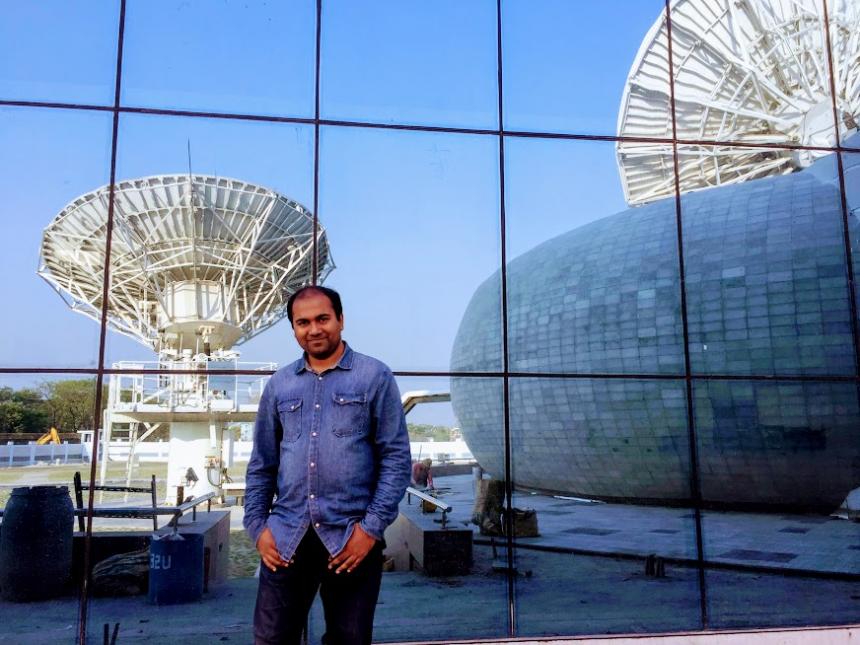 PhD Student, Department of Computer Science
Basic Information
Office Hours:
Wednesday 10am - 12pm (Fall 2019)
Selected Publications

Selected Publications:

M. R. Islam, U. Fatema, M. I. H. Bhuiyan and S. K. Bashar, "Classification of electrocorticography based motor imagery movements using continuous wavelet transform," 2016 IEEE Students' Technology Symposium (TechSym), Kharagpur, 2016, pp. 13-17.
Biography

I am Md. Redwan Islam. I am a PhD student in the Department of Computer Science. I worked as a Graduate Teaching Assistant in the department of computer science this summer. Prior to that, I was working as a Research Assistant in the department.

I completed my B.Sc. in Electronics and electrical engineering from Bangladesh University of Engineering and Technology. During my undergraduate studies I published a conference paper entitled 'Classification of Electrocorticography based Motor Imagery signal using Continuous Wavelet Transform' in IEEE TechSym 2016. After that, I joined in DataSoft Systems Bangladesh Limited, as a Trainee Software Developer in IoT. Later, I worked in Spectra International Limited as a Satellite Operation Engineer, where I got the opportunity to work as a subcontracting computer and data center engineer in the Bangabandhu Satellite Project of Thales Alenia Space, France. The project was the first geostationary communication satellite of Bangladesh and I oversaw installation and maintenance of servers, computers and the application software, switches, routers and other network devices.

 
Research

Research Interests:

I am interested to work in Machine Learning, Internet of Things, Data Analytics, Artificial Intelligence, Neural Network, Deep Learning, Neuromorphic Computing, Big Data. 
Education

Education:

B.Sc. in Electronics and Electrical Engineering, Bangladesh University of Engineering & Technoloy

Major in Communication, Minor in Electronics

Undergraduate Thesis Topic: ECoG and EEG signal classification for Brain Computer Interfacin
Other Information

Of note:

Skills and Abilities

EMBEDDED SYSTEM:

Atmel Studio 7, Intel Edison, Arduino, Keil, Emu 8086

PROGRAMMING LANGUAGE:

C, C++, C#,Python, MATLAB, Simulink, Verilog HDL, System Verilog, 8086 Assembly, 8051 Assembly, Processing 3, Scala, Bootstrap, Java, Android, Swift, R, Visual Basic, Shell script

WEB TECHNOLOGIES:

HTML, CSS, javascript, jquery, AJAX, PHP, MySQL, Node.js,  Codrops, MongoDB

DATACENTER H/W, S/W:

Dell Poweredge R430, WYSE 3010, WYSE 3040, Azure, AWS

GRAPHICS DESIGN:

AutoCAD, VrealM Builder, SketchUp, SVG,

CIRCUIT AND DIGITAL SYSTEM SIMULATORS:

PSpice, Proteus, MultiSim, Quartus-II

OTHER COMPUTER SKILLS:

Microsoft Word, Excel, PowerPoint, Visio, Access, LaTeX, Unity, Wireshark, ModelIO, Wordpress, VMWare, Docker, Android Studio, SPSS, Laravel, DataBase Management, Anaconda, Cordova, Linux CentOS and RedHat, Cadence Tools

Language Skills:

Expert in written and verbal communication in both English and Bengali.

 

Academic Projects

''Greenhouse Installation'' in University of Georgia Research facility.

''Caferteria Ordering System'' as a part of Software Engineering course in UGA

''Graphic Transformation Demo Tool'' as a part of Computer Graphics course in UGA

''Custom TraceRoute'' as a part of Computer Network course in UGA.

"Braille to Text Decoder" in "Digital Electronics Laboratory" in BUET

"Speed Control of a DC Motor Deployed on a Smart Car" in "Control System Laboratory" in BUET

"Design of 4 bit ALU with shifter using Cadence Virtuoso Design Environment" and "Design and Layout of a 3 input XOR gate using Cadence Virtuoso Design Environment with minimum Area and propagation delay" in "VLSI I Laboratory" in BUET

"Top down and Bottom Up design of an n-bit general purpose shift register using Cadence Encounter RTL & Cadence Virtuoso Design Environment" in "VLSI II Laboratory" in BUET

"Infrared Emitter-Detector and Arduino based low cost Heart Rate Monitor" in "Biomedical Instrumentation Laboratory" in BUET

"Complete Fittings and Fixtures Layout, Conduit Layout, Switch-Board Connection Diagram, Distribution Board Connection Diagram of a Two- Story Residential Building." in "Electrical Services Design" in BUET

"Calculation of Transmission Line Parameters of a Given Transmission Line" in "Power System I Laboratory" in BUET.